Ballon Meats is COMMITTED to producing beef, pork and lamb to the HIGHEST POSSIBLE QUALITY STANDARDS.
Food safety is a major priority for Ballon Meats
Ballon Meats is committed to producing beef, pork and lamb to the highest possible quality standards. This commitment begins on our farm or our supplying farms and ends at the dinner tables of our ultimate consumers all over Ireland and beyond.
Five Features of Food safety at Ballon Meats
We are fully accredited with BRC global standards and are proud to meet the standards of one of the world's most important certifications for food suppliers.
At Ballon Meats, all beef, pork and lamb slaughtered in the plant are traceable back to the farm and are slaughtered in compliance with the EU Regulations 852/2004, 853/2004 and 854/2004.
Production activities are carried out in accordance with a detailed production and monitoring programme developed in accordance with HACCP principles. The programme sets standards on a range of parameters, including hygiene, temperature and bacteriological levels.
Our products are all produced and supplied in accordance with the regulations outlined by the Department of Agriculture Veterinary division and the Humane Slaughter Association, these regulations are monitored by personnel from accredited scientific laboratories and trained company personnel.
All products are constantly under review by management with a view to standards already achieved. The quality policy statement is reviewed annually to ensure compliance and continual improvements.
Food Safety & Quality is very important for us at Ballon Meats. Contact us to find out more.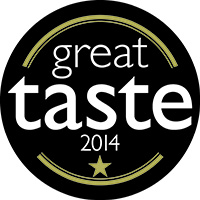 Great Taste 2014 reveals new stars and Ballon Meats is a winner
The world's largest blind-tasted food awards Great Taste, has just released the stars of 2014 and Ballon Meats is amongst the producers celebrating as its Traditional Cured Back Bacon is now able to proudly carry the little gold and black Great Taste logo.
Judged by over 400 of the most demanding palates belonging to food critics, chefs, cooks, members of the Women's Institute, farmers and a host of food writers and journalists, Great Taste is widely acknowledged as the most respected food accreditation scheme for artisan and speciality food producers. When a product wears a Great Taste label it carries a badge of honour but more importantly, the Great Taste logo is a signpost to a wonderful tasting product – and hundreds of judges have worked hard to discover the very best through hours and hours of blind-tasting a total of 10,000 different foods and drink.
Great Taste is simply about taste, not clever branding or smart packaging. Judges are presented with a spoonful of jam, a pie, a slice of salami, or a cup of espresso, with no wrappings, jars or marks – and they taste, confer and re-taste before making the decision on whether a product should be a 1-, 2- or 3-star winner. In total more than 12 judges will have tasted and commented on each product.
This year a massive 10,000 products entered into Great Taste and of those products, 153 have been awarded 3-star. A panel of supremely talented judges including; Masterchef judge and restaurant critic Charles Champion, BBC Food Programme presenter Sheila Dillon, Great British Bake Off winner Frances Quinn, MasterChef 2013 Natalie Coleman, food buyers from Harrods, Fortnum & Mason, Selfridges, Harvey Nichols and Whole Food Markets, and chefs including Michelin Star chef Russell Brown have together re-judged and tasted yet again the 3-star winners to finally agree on the 2014 Top 50 Foods, the Golden Fork Trophy winners as well as the new 2014 Supreme Champion.
Finally on Monday, 8 September, at a nail-biting Awards' Dinner at the Royal Garden Hotel, London, the great and the good from the world of fine food will gather to hear who has won the Golden Fork Awards and the final applause will be reserved for the Great Taste Supreme Champion 2014.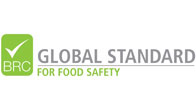 BRC – Global Standards for Food Safety
The BRC Food Technical Standard is used to evaluate manufacturers of retailers own brand food products. It is designed to assist retailers and brand owners produce food products of consistent safety and quality. Under EU food Law, retailers and brand owners have a legal responsibility for their brands.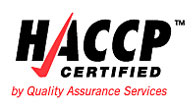 HACCP Certified
HACCP Certification ensures that a person is aware of procedures and is well-versed in inspection of proper protocols to ensure safety. Certification examines the ability of an applicant to identify, evaluate and make recommendations on the steps in the production process that may be inadequate.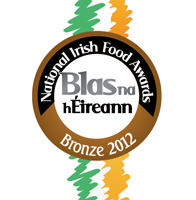 Blas na hÉireann / National Irish Food Awards – Bronze 2012 for 'Bacon Steaks'
The National Irish Food Awards (Blas na hÉireann) celebrate and reward the very best tasting Irish food and drink products, and the passionate, driven producers who make it. This year Ballon Meats took Bronze in the Bacon Category with 'Bacon Steaks' at the Annual Blas na hÉireann/ Dingle Foods Festival Awards competition.